As an internal and external communications specialist I work with clients to grow brand awareness by grafting their message across a myriad of social media and direct marketing platforms. I design and structure consistent content to retain existing customers and draw in new clients, as well as improve traffic and conversation rates.
"Adrienne has an uncanny ability to self mode and see what needs to be done to improve brand awareness and give each customer a story. Her work is invaluable." – Mary Simmons, Founder and CEO of Erato Enterprises
https://www.eratoenterprises.net/
"Her writing style and direction for content keeps our social media up to date, consistent, and engaging.  A master of telling your story in a new and interesting way." – Jenny Lynn, CEO of Vinformant.com
https://www.bayarea.com/author/15510/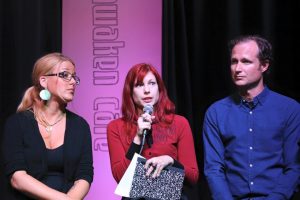 Discussing the importance of Social Media with Books Inc., Amoeba, and Pandora.